CrystalCPUID [Obsolete]
CrystalCPUID is a CPU utility software.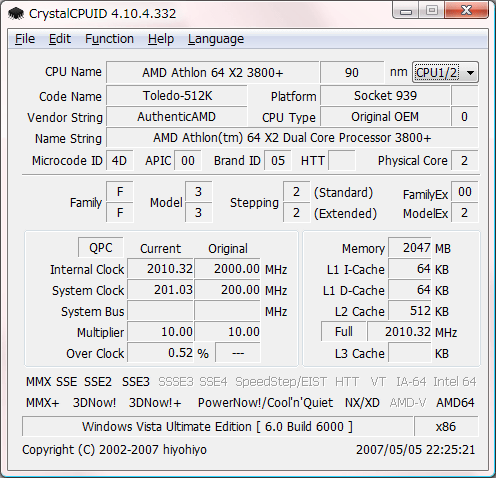 System Requirements
OS
x86 : Vista/2003/XP/2000/NT4/Me/98/95
x64 : Vista/2003/XP
IE
4.0 ~
Key Features
Support AMD64/EM64T
Intel SpeedStep Control
AMD K6/K7/K8/GeodeLX Multiplier/Voltage Control
VIA CyrixIII/C3 Multiplier Control
Multiplier Management
MSR Editor/MSR Walker
Clock, Cache, System Clock, Multiplier
Feature Flags
CPUID
Process Rule
Code Name
Multi Processor
PCI Device List
Chipset/VGA information
BIOS Information
Change Dialog Font
Change Wallpaper
FAQ
Automatic startup with activation of multiplier management.
Set /CQ & /HIDE command line option and put shortcut on Startup. If you would like to get more information, please read ReadMeCpuid.txt.
example
"C:CrystalCPUIDCrystalCPUID.exe"
-> "C:CrystalCPUIDCrystalCPUID.exe" /CQ /HIDE
*This feature may not work on Windows Vista.