CrystalDiskInfo supports Alert Mail. You should do Mail Settings and send Test Mail before using Alert Mail Feature.
This feature is required .NET Framework 4.8 or later.
.NET Framework 2.0.x-4.7.x: Does not support SMTPS protocol.
Mail Settings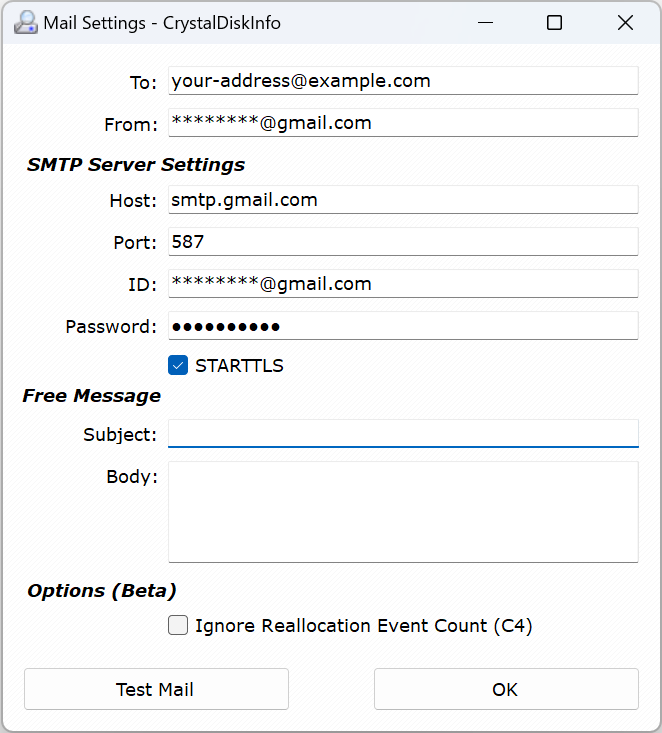 Setting Example
*Please note that we do not provide support for email setup.
** In Gmail, less secure apps will not be available after May 30, 2022, so please switch to app passwords.
Test Mail
Please check settings correctly.
Mail Format
[Event ID] is defined by Event Log.
Subject :
[CDI] Computer Name (Disk No.) Model Name / Serial Number / Drive Letter [Event ID]
Ex:[CDI] CRYSTALMAC1 (3) SAMSUNG HD204UI / S2HJJ1BZA01048 / D: [704]
Body :
Ex1 :
CRYSTALMAC1 (3) SAMSUNG HD204UI / S2HJJ1BZA01048 / D:
[704] Recovery: (C5) Reallocated Sectors Count [4432->0]
Ex2 :
CRYSTALMAC1 (3) SAMSUNG HD204UI / S2HJJ1BZA01048 / D:
[701] Health Status: [Caution] -> [Good]
Manual